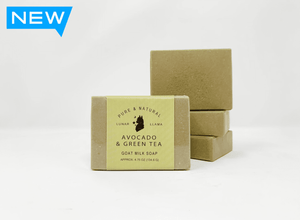 Avocado & Green Tea Pure & Natural Goat Milk Soap
This nutrient-rich face and body bar will leave your skin feeling smooth and moisturized! Our Avocado & Green Tea soap begins with high quality green tea leaves that are triple brewed in distilled water to extract all that green tea goodness for your skin. We then make a fresh purée from rich and creamy avocados, which are naturally high in omega 3 fatty acids, vitamins C and E, as well as the antioxidants beta-carotene and lycopene. We combine the green tea, avocado purée, goat's milk, and blend in some matcha tea powder to create a luxury face and body bar that your skin is sure to love!

Bar size: approximately 4.75 oz

Ingredients: green tea (green tea leaves, distilled water), goat milk, saponified oils (olive oil, coconut oil, palm oil, avocado oil, castor oil), avocado puree (avocado, distilled water) sodium lactate, lavender essential oil, lemongrass essential oil, matcha powder.

***Images provided are for reference only. The colors of the natural oils and butters used in our soaps can cause variations in the final product of each batch. 

---