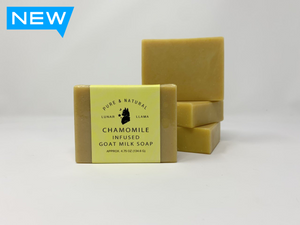 Chamomile Infused Pure & Natural Goat Milk Soap
Pure goat milk soap made with chamomile infused olive oil to help soothe irritated skin, calming down inflammation and sensitive areas, and helping speed up healing of minor injuries and sunburns. This soap's antibacterial properties may help fight acne and breakouts. Chamomile may also as a mild skin-bleach, lightening up your complexion and giving you a nice, healthy glow.
Indulge your skin with this soothing, creamy, chamomile infused soap!

Bar size: approximately 4.75 oz

Ingredients: goat milk, saponified oils (olive oil infused with dried chamomile, coconut oil, sustainable palm oil, castor oil), sodium lactate, pumpkin powder, clary sage essential oil, juniper berry essential oil.

***Images provided are for reference only. The colors of the natural oils and butters used in our soaps can cause variations in the final product of each batch. 

---