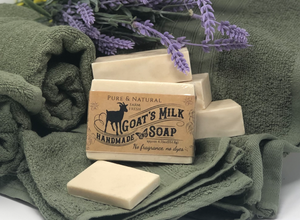 Fragrance Free Pure & Natural Goat Milk Soap
One of our favorites at home! Skip the chemicals in commercial soaps that dry out your skin and dive into this creamy perfection. This soap is made from pure, whole, fresh goat's milk and is left unscented to enjoy the pure and natural scent of goat's milk. Gentle on all skin types, even your baby's skin! 
Bar size: 4.5 oz

Ingredients: goat milk, saponified oils (olive oil, coconut oil, sustainable palm oil, castor oil), sodium lactate.
***Images provided are for reference only. The colors of the natural oils and butters used in our soaps can cause variations in the final product of each batch. 

---