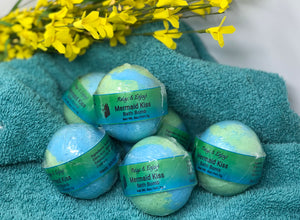 Mermaid Kiss Bath Bomb
Ocean mist, sea salt, and gentle florals combine to give you a Mermaid Kiss! The fragrance begins with top notes of ocean mist, sea moss, and dewy cyclamen petals. This is followed by middle notes of geranium flower, water mint, and coriander seed sitting on base notes of white cedarwood and earthy vetiver. 
5 oz.
Ingredients: sodium bicarbonate, citric acid, epsom salt, coconut oil, fragrance, cream of tarter, aqua, polysorbate 80, bath bomb approved colorant.
***Due to the handmade nature of this product, colors and swirls may vary by batch.
---